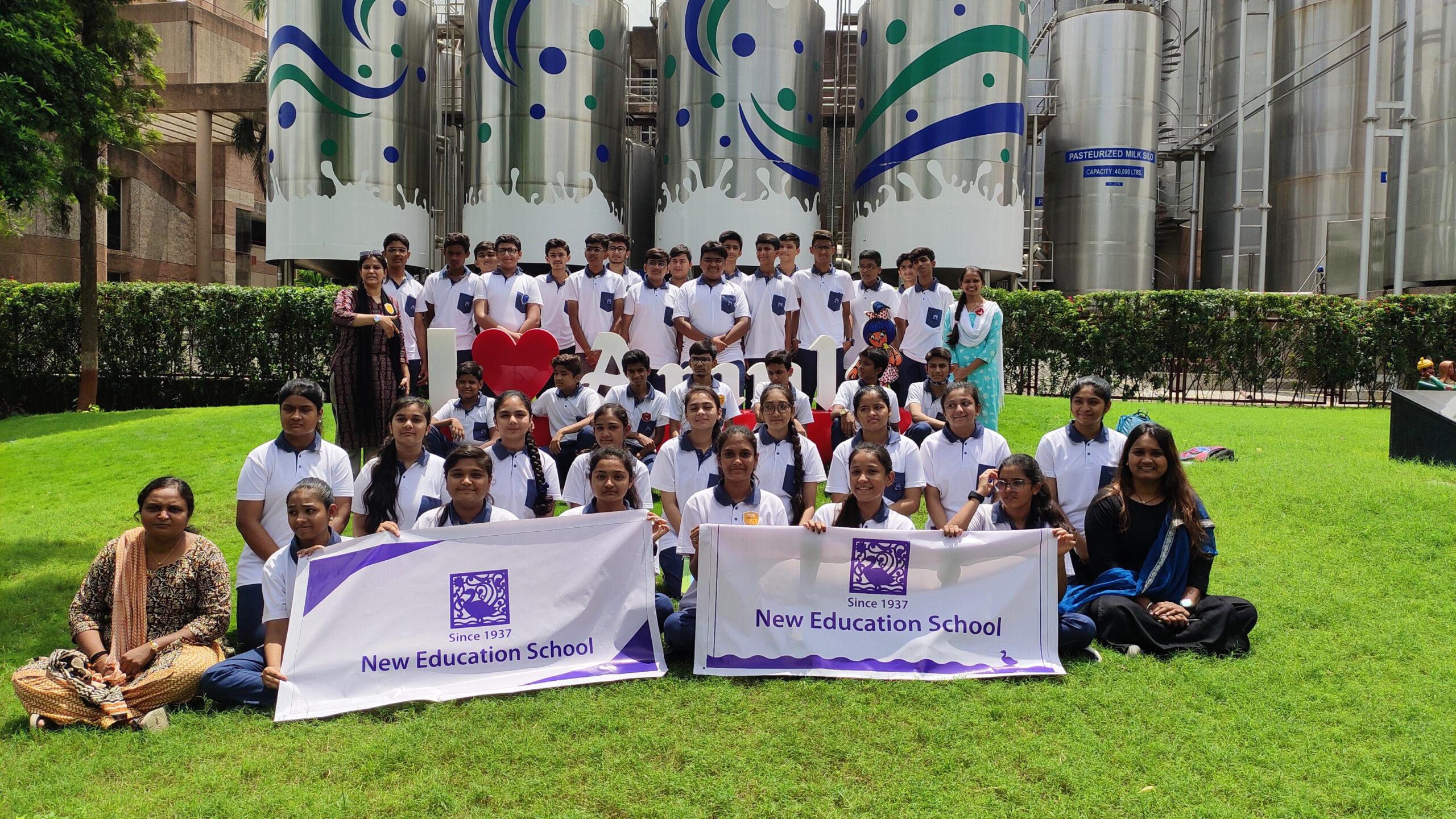 Industrial visit to Amul Plant
Industrial visit – Amul factory Anand
On July 28,2022 R. M. Trivedi New Education High School organised Industrial visit to Amul factory located in Anand, Gujarat.
The students of class 11th and 12th commerce were given a brief introduction and details about the factory a day before the visit.
The students were shown videos and were given briefings regarding the factory.
The students were bifurcated into 4 houses-

House of Raven
House of Hawk
House of Eagle
House of Seagull

The students prepared questionnaires within their houses.
The guiding staff was very supportive to all the students.
The following is a list of our activities and observations at  Amul factory :
A short documentary on the history and working of factory
Number of activities conducted in Amul factory such as Processing of milk, productions of butter, buttermilk, milk powder, chocolate chips.
All the activities are carried out by 100% by machines.
Workers do not touch the products until they are packed so the hygiene can be maintained.
There is a proper management of manpower and machines.
After the journey was continued by 7 km bushrt to Amul chocolate factory.
The students were very excited to see the packaging and making of Amul chocolates the tempting smell of the chocolate drove them away
The purpose of the visit was to make students go through a real life experience of manufacturing, production, packaging, processing distribution, advertisement, supply chain in real life bases
Motive of the visit
The main motive of the visit was to enhance the practical knowledge of the students by making them visit in an actual market
The subjects and the topic were co-ordinated with their real life Experiences of their visit.
To enrich students with entrepreneurial skills.
To make the students understand about the story of Amul Factory.
To enhance the knowledge and encourage the students about the companies.
To make students understand regarding the manufacturing process
The students worked according to their groups They asked relevant questions enthusiastically to the guide. They not only showed their leaderships skills but also also worked as a team. The students according to their houses prepared a PowerPoint presentation of blog and a questionnaire after their visit.